Foreign Rights
Dear colleagues,
welcome to the Foreign Rights page of Carl Hanser Verlag. Please see below for information on the authors and titles to which we control world rights. You can also download our latest Foreign Rights Catalogues. Please do not hesitate to contact us if you are interested in translation rights or if you wish to receive a reading copy.
We look forward to hearing from you.
Kind regards,
your Foreign Rights team
Friederike Barakat, Anne Brans, Chiara Gardella, Claudia Horzella & Annette Lechner
Foreign Rights Service
Search
Contact Persons
Foreign Rights Service
Spring 2020
Foreign Rights Service Spring 2020 PDF
Autumn 2019
Foreign Rights Service Autumn 2019 PDF
CHILDREN'S BOOKS
Bologna 2019 Children´s books PDF
---
Search:
---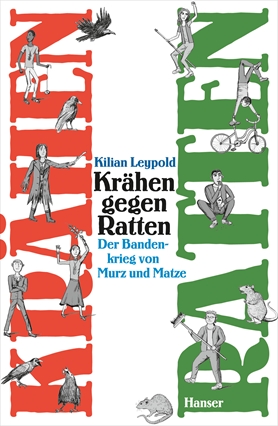 Crows vs Rats
They live in the same neighbourhood, yet they're worlds apart. The Crows and the Rats have been enemies ever since the world was divided into rich and poor. Then one day a stone triggers a do-or-die contest. The Crows – dreamy Murz, his ...
---
Contact Persons
Hanser I Hanser Berlin I NaKi
France, Italy, Spain, GB/USA, South America Friederike Barakat
Vilshofenerstraße 10
81679 München
Germany phone: +49-89-99830-509
fax: +49-89-99830-460
e-mail:
friederike.barakat@hanser.de
Hanser I Hanser Berlin I Naki
Netherlands, Scandinavia, Greece, Turkey, Israel, Arab world Chiara Gardella
Vilshofenerstraße 10
81679 München
Germany phone: +49-89-99830-530
fax: +49-89-99830-460
e-mail:
chiara.gardella@hanser.de
Hanser I Hanser Berlin I Naki
Central and Eastern Europe, Asia Claudia Horzella
Vilshofenerstr. 10
81679 München
Germany phone: +49-89-99830-532
fax: +49-89-99830-460
e-mail:
claudia.horzella@hanser.de
Hanser Children's books
Worldwide Anne Brans
Vilshofenerstr. 10
81679 München
Germany phone: +49-89-99830-519
fax: +49-89-99830-460
e-mail:
anne.brans@hanser.de
Zsolnay
Worldwide Annette Lechner
Prinz-Eugen-Straße 30
1040 Wien Tel: +43 1 5057661-12
Fax: +43 1 5057661-10
E-Mail:
annette.lechner@zsolnay.at