Foreign Rights
Dear colleagues,
Welcome to the Foreign Rights page of Carl Hanser Verlag. Please see below for information on the authors and titles to which we control world rights. You can also download our latest Foreign Rights Catalogues. Please do not hesitate to contact us if you are interested in translation rights or if you wish to receive a reading copy.
We look forward to hearing from you.
Kind regards,
Your Foreign Rights Team
Friederike Barakat, Anne Brans, Chiara Gardella, Claudia Horzella & Annette Lechner
About Hanser Literaturverlage
Contact Us
Rights Lists
Search
About Hanser Literaturverlage
Ranging from contemporary authors to international literary classics, and featuring children's and young adults' books as well as an informative, thought-provoking non-fiction programme, Hanser's list is both stimulating and inviting.
The concept
Carl Hanser founded the publishing house in 1928 with an extraordinary idea: he united two different divisions – literary and specialist titles – under one roof to ensure the company's independence. The fact that Hanser is still one of the few publishers of its size to have remained in family ownership testifies to the founder's prescience at only twenty-seven years of age.
This decision ensured the publisher's survival from 1933 on. During the period of the Nazi dictatorship, Hanser no longer published literary publications, but only specialist books and magazines, as its specialist division was not jeopardised by the political situation. After the war, Carl Hanser was one of the first publishers to receive a license from the American occupying authorities.
Post-war period
After 1945, the literary division of the publishing house was able to develop its profile. It quickly made a name for itself with classic editions of German literature from Goethe to Fontane, alongside which today stand successful new translations of foreign literature from Melville to Tolstoy and Flaubert. Hanser initially took a conservative approach to contemporary literature, but the literary magazine Akzente, founded in 1953 by Walter Höllerer and Hans Bender, opened it up to younger voices and international writing.
The path ahead
Hanser retains its independence and distinctiveness by concentrating on its strengths: it builds close relationships to its authors and develops ideas for each and every book. To make sure it has a high profile in a broad range of fields, the publishing house has built up a network of holdings and imprints. In 1960, Hanser was one of the founding partners of the paperback imprint dtv, and in 1993, the Hanser Kinder- und Jugendbuch (Children's and Young Adults' Books) was launched. Hanser acquired Zsolnay Verlag in 1996, and Deuticke Verlag in 2004, both Vienna-based publishers. Then its programme expanded once more in 2012 when it set up the subsidiary Hanser Berlin. The latest addition to the Hanser group was made in 2019 with the founding of hanserblau.
Our core business: German-language literature
German-language authors remain the cornerstone of our publishing house: Herta Müller, Botho Strauss, Arno Geiger, Wilhelm Genazino, Michael Köhlmeier, Rafik Schami, Barbara Honigmann, Alex Capus, Navid Kermani, Thomas Lehr, Norbert Gstrein and many others represent our diverse and impressive range of contemporary literature. Our most recent acclaimed publications include titles by Karen Köhler, Monika Helfer, Abbas Khider, Tilman Rammstedt, Fatma Aydemir, Theresia Enzensberger and Anja Kampmann.
Nobel laureates and major international names
Hanser has more Nobel Prize laureates for Literature than any other German publisher. Ivo Andric was our first author to receive the most acclaimed literary prize in 1961, followed in 1981 by Elias Canetti, the first German-language author at Hanser to have won it. In recent years, the publishing house has welcomed Orhan Pamuk (2006), Herta Müller (2009), Tomas Tranströmer (2011), Mo Yan (2012), Patrick Modiano (2014) and Svetlana Alexievich (2015), among others, to the ranks of its Nobel-prize winners.
In the meantime, international names such as Jorge Luis Borges, Primo Levi, Italo Calvino, Susan Sontag, Roberto Bolaño, Philip Roth, Per Olov Enquist, Milan Kundera, Claudio Magris, Michael Ondaatje, Jostein Gaarder, Ljudmila Ulitzkaja and Margriet de Moor count almost as classics. Yasmina Reza, David Grossman, T.C. Boyle, Peter Hoeg, Colson Whitehead and many others spearhead Hanser's current programme and will lead it into the future. When Umberto Eco's The Name of the Rose was published in 1982, a Hanser publication appeared for the first time on the German bestseller list, which has since been a regular achievement.
Poetry remains indispensable
Poetry marks the beginning of literature. It is an integral part of the Hanser programme, which features poetry by Günter Kunert and Lars Gustafsson, Emily Dickinson and Raoul Schrott, Christoph Meckel, John Burnside, Adam Zagajewski and Ocean Vuong. Anthologies such as the modern translations of medieval German poetry collected in Unmögliche Liebe (Impossible Love) reflect the contemporary poetry scene, and numerous prizes and events render visible a genre in which language reinvents itself.
Non-fiction for a broad readership
Hanser explores all kinds of subjects throughout the world with its well-founded contemporary non-fiction programme. This includes works by the biographers Rüdiger Safranski and Karin Wieland, political analyses by Timothy Garton Ash, historical accounts by Karl Schlögel and Philip Blom, philosophical reflections by Peter Bieri and Emanuele Coccia, sociological observations by Heinz Bude, books that provoke discussion by Barbara Bleisch and scientific findings by Julia Shaw. History, politics, current debates, society, cultural studies, nature and knowledge are the focal points of the Hanser's non-fiction range.

Contact Us
Hanser | Hanser Berlin | hanserblau
Friederike Barakat
GB/USA, Spain, Portugal, South America Vilshofener Straße 10
81679 München
Germany phone: +49-89-99830-509
friederike.barakat@hanser.de
Hanser | Hanser Berlin | hanserblau
Chiara Gardella
France, Italy, Netherlands, Scandinavia, Israel, Arab World Vilshofener Straße 10
81679 München
Germany phone: +49-89-99830-530
chiara.gardella@hanser.de
Hanser | Hanser Berlin | hanserblau
Claudia Horzella
Baltic States, Central East, East and South East Europe, Greece, Turkey, Asia Vilshofener Straße 10
81679 München
Germany phone: +49-89-99830-532
claudia.horzella@hanser.de
Hanser Children's books
Anne Brans
Worldwide Vilshofener Straße 10
81679 München
Germany phone: +49-89-99830-519
anne.brans@hanser.de
Rights Lists
---
Search:
---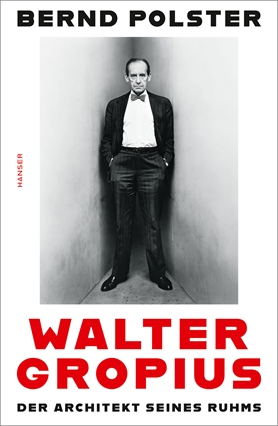 Walter Gropius
He is one of the giants of modern architecture. But what did Walter Gropius actually build? The answer is: not much. And that's not surprising considering that after studying for two years, it became clear that he lacked any talent for ...
---