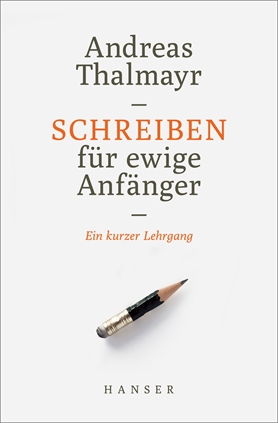 Writing for Eternal Beginners
Many people want to write books, and guides for budding writers are even more plentiful. But how do you find your way into the book market? This question can only be answered by an outsider: in this case, the literature expert Andreas Thalmayr, with a whole array of ideas, anecdotes, and information. His inspirational tutorial will benefit anyone beginning to write — whether he is just starting out or is simply facing a blank page.

Andreas Thalmayr is back! And once again, the friendliest non-celebrity in contemporary literature is interested in words, and nothing but words. In twenty-seven extremely amusing letters to a young, future author, he talks about the daily life of writing books: from the battle for copyright to literary agencies, blurbs and book design, all the way to the question of the right publisher. How do writers support themselves financially? Why is literary criticism necessary? Is it really possible for an author to be misunderstood? This small yet great book takes fantastically seriously every issue that concerns books.