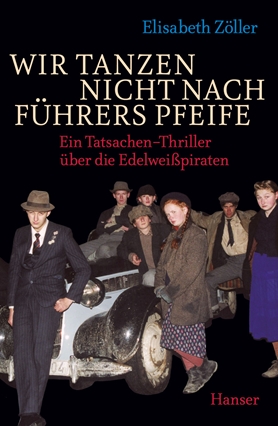 We Won't Dance to Hitler's Tune –
A riveting novel, rich in atmosphere and based on historical fact, about a group of adolescents who rebelled against the Nazi regime: the Edelweiss Pirates
1943; the ruins of Cologne. Paul is seventeen and classified as half Jewish by Nazi law. On the point of being taken to the collection point for deportation, he decides to go into hiding amidst the chaos of the bombed-out city. During his escape, love is the last thing on Paul's mind – but one day he finds himself standing side-by-side with Franzi on a bridge over the Rhine, and she asks him for a cigarette... Franzi introduces him to her brother Hotte and his friends. Bastian, Ralle, Zack and the rest of the gang hate the Nazis passionately. Many of the boys they were at school with are now marching in the ranks of the Hitler Youth screaming »at your command, sir!« But despite their loathing of the regime, Hotte and his crew don't want to miss out on all the camaraderie, so they meet in an old air-raid shelter where they can smoke and tell jokes at the Nazis' expense. Sometimes they get into fights with the Hitler Youth kids, sometimes they distribute leaflets or plan sabotage operations. But when Zack is shot during a raid on a food transport, their lives take a dramatic turn: they have aroused the attention of the Gestapo.