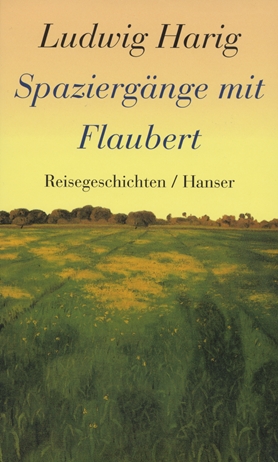 Walking with Flaubert
Most people travel to experience nothing – or everything, which yields, in most cases, identical results. But when writers, those born homebodies, pack their trunks, they seek adventures that they can use for new books. Ludwig Harig is an exception to the rule. He loves to follow the tracks of other writers to discover, in situ, something of their spirit. Thus he has climbed mountains with Lenz, visited Theodor Storm in Northern Frisia and Nietzsche in the Engadin. Nor are his travels restricted to Europe. Accounts of his visits to the land of Twain and Faulkner are amongst the most arresting pieces in this collection.

Harig's reports are inquisitive and good-humoured descriptions of people and places, inspired portraits that convey far more of the minds and moods of the poets than analytical scholarship can reveal. Harig's transatlantic literary expedition ends with two texts which lead the reader from history directly into the present. There is a journey through East Germany full of suprising, comic and moving observations, and the diary of an excursion which cannot be booked through a travel agency: a series of readings across Germany.