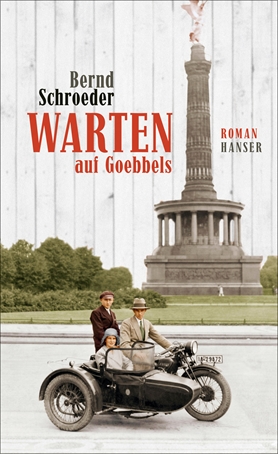 Waiting for Goebbels
A German film is being made about the war – with a happy ending. But the closing credits have long since been running.

It's early 1945. Berlin is in flames. But the UFA film company is shooting a movie about the day the Führer celebrates victory with his nation in Berlin – the victory of the Third Reich over the rest of the world. And the victory speech will be held by Goebbels.

Somewhere on a heath, a motorbike whizzes past beautiful scenery. A father shows his son what he fought in Russia to defend. Filmed on behalf of the Propaganda Ministry, the Germans' spirits are being rallied once more at the last possible moment. Bernd Schroeder's astonishing novel brings everything together: the ridiculous and the gruesome, great lies that no one believes and small intrigues on a film set. While famous actresses and ambitious extras, gay stars and dictatorial directors make the show go on, everyone knows that curtain is imminent. But the worst is still to come: Goebbels will be played by Goebbels. The waiting begins.
A novel that reflects the great catastrophe in a grotesque endgame a Noah's ark of vanity as the world sinks.