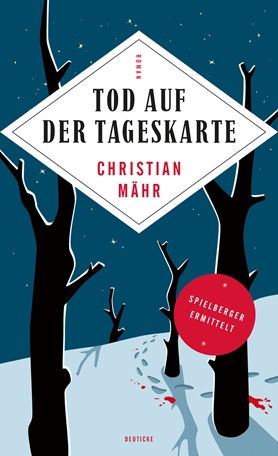 Today's Special: Murder
Tavern owner Matthäus Spielberger has no ambition to assist police investigations, but he does have a real problem on his hands: Matthäus sees a murder before it takes place. Can he reach the scene in time to intervene? That's the case Spielberger and his drinking cronies need to solve.

Spielberger, landlord of the »Blaue Traube« in Dornbirn, has a strange dream in which two men throw a male corpse from the bridge over the Rappenloch Gorge. He tells his eccentric group of regulars about the dream, and irascible woodcarver Lothar Moosman, retired chemistry professor Lukas Peratoner and frustrated baritone Franz-Josef Blum convince him they should all drive to the gorge together to investigate the matter. On the way there they come across someone Matthäus recognizes: it's one of the two men from his dream. The cronies become more and more entangled in the case, which reaches its showdown in a remote valley on the Swiss border.

Riveting, malicious and shot through with delightfully subversive black comedy, this book is a treat for crime-thriller aficionados looking for something beyond the run-of-the-mill.