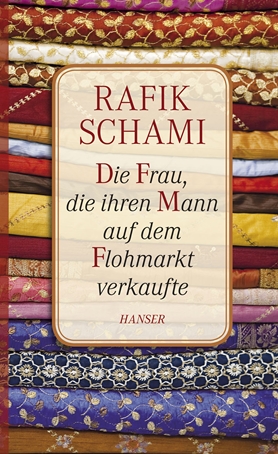 The Woman who Sold her Husband in the Flea market
Rafik Schami at the top of his game: in this highly intimate book, we become his close companions as he takes us on an adventurous journey through stories and fairytales describing how he came to be one of the most popular raconteurs in the German-speaking world. A must-have volume for all Schami admirers.

Schami describes his childhood in Damascus, at a time when storytellers still spun their yarns in the coffee houses; he paints a tender portrait of his grandfather, who was himself great at telling tales; he recounts the story of the marbles and the role they played in his life; and he considers how fairytales came into the world and why they keep us spellbound to this day. Rafik Schami speaks to the reader directly - that's what makes this book so special. He has no intention of educating us, his only desire is to keep us entertained, and so we find ourselves following his every word with bated breath. Over the past few years, the author has given almost 3000 readings, covering a distance the equivalent of nine orbits around the earth. When he started, he had only a handful of readers, but now people in their thousands listen rapt when he tells the story of the poor woman who sold her husband in the flea market. A delightful anthology collated by the virtuoso storyteller.