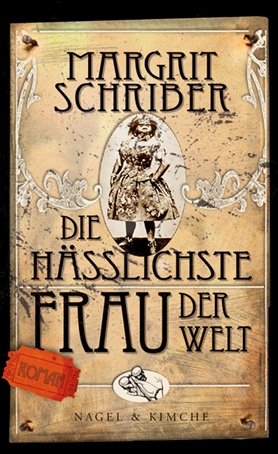 The Ugliest Woman in the World
In the middle of the19th century, two young women travel through Europe together. One of them stars in a freak show as the "ape woman", while the other is a winsome young dancer whose beauty serves only to make the main attraction seem even more monstrous. With great stylistic acumen and profound compassion, Margit Schriber relates the story of a moving friendship that blossoms under the shadow of violence, sensationalism and misguided scientific research.

To Charles Darwin she was "a remarkably fine woman" with "a thick and masculine beard", and for many years she was at the centre of debates as to whether God made a mistake in his creation: Julia Pastrana, promoted as "the greatest attraction of all times" and "the ugliest woman in the world" by Theodore Lent, her impresario and later husband. It is to this end that the enterprising showman Lent hires a young girl from central Switzerland who had missed her boat to America and was stranded at Southampton Harbour. Rosie la Belle's role is to perform an erotic dance before Julia's appearance on stage, and so enhance the audience's thrill and horror at the sight of the ape woman. Although Rosie loves vaudeville, she feels deep compassion for this misshapen creature, and in the course of their tour through Europe she becomes her maidservant and confidante. This is a novel about the destiny of a misunderstood woman, and about the light and dark sides of human curiosity.