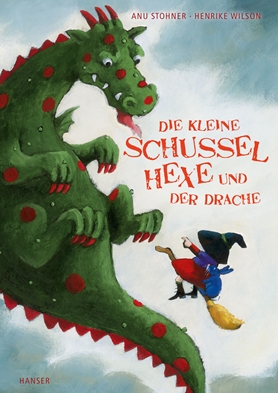 The Scatterbrained Little Witch and the Dragon
The little witch is indeed incredibly scatty but she's there when it really counts. And she's also not afraid of facing a dragon.

With his fire the dragon left everything in a shambles: All the old witches' brooms are charred and useless. Only the broom of the little scatterbrained witch is unscathed. So it's on her to put the dragon to rout. Courageously, she takes off. But wait a minute, how did it go again? Of course, the little witch has yet again forgotten the spell. »A song of ghosts you must now sing, to hold the dragon and … ehhm … to tie his wing!« well, that was almost right, but at least she can now talk to the crashed down dragon. And that's great because, actually, the dragon needs help. He wants to get rid of his red spots so he won't be laughed at anymore. But what was the spell against dragon spots again?