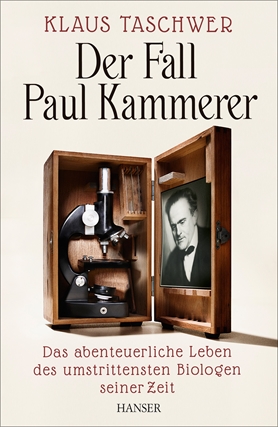 The Paul Kammerer Case
On 22 September 1926, Paul Kammerer climbed a hill in the Austrian Schneeberg mountains, put a pistol to his head and took his own life. Shortly before, Kammerer, who had been fêted as the greatest biologist since Darwin, had been accused of falsifying the results of his experiments in acquired characteristics. The case garnered worldwide attention and remains unsolved to this day.

Ninety years later, Kammerer is considered by some to be the father of epigenetics; for others, he remains a forger. Who, if not him, could have carried out the manipulations? Why else did Kammerer, who had also made a name for himself as a composer, freemason and Alma Mahler's lover, commit suicide? Once more, Klaus Taschwer unrolls the story of the man at the centre of the midwife toad case: Kammerer, his life and death. And Taschwer delivers the first hot lead in this cold case, which has its roots in a Jewish conspiracy. A real-life thriller that brings to life Vienna's creative milieu around 1900 and the crisis of the inter-war period.
Foreign Sales
World English (Bunim & Bannigan)