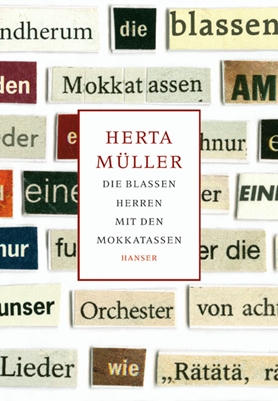 The Pale Gentlemen With Their Espresso Cups
»Dizzyingly surreal and playful, these poems are beautiful precisely because we can feel the shockwave running through them. And, what's more, they are liberating,« wrote Gabriele Killert in Die Zeit about Herta Müller's volume of poetry. We have come to expect the highly evocative lyrical language that Herta Müller brings to her novels, but her poems are truly in a class of theie own.

»Watch: this is how you do it«, says a line in one of the poems, and the author has constructed every one of them with the greatest of care, not only as far as the choice of words is concerned, but also in terms of the imagery, texture, and the remarkable deftness of touch she brings to all her work. By piecing together her texts from newspaper cuttings and pictures, she turns her poems into collages that are at once playful and artistically cohesive. Herta Müller writes poetry with scissors: the result is a volume of verse which offers visual delight as well as literary pleasure – a masterpiece of the imagination.
---
Foreign Sales
Sold to many countries