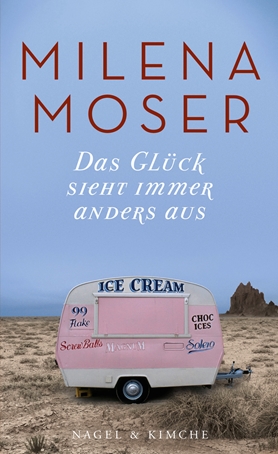 The Many Faces of Happiness
When her marriage fails, Milena Moser thinks to herself: go for it! If you don't do it now, you never will – and takes herself off to America to chill out on a road trip. It'll be just like the carefree journeys of her youth. She wants to finally learn to dance, find herself a new lover and discover true happiness. And it all works out for her – although not quite in the way she had intended. In this book she tells the story of her quest for fulfilment.

Milena Moser takes the plunge. To mark her 50th birthday she embarks on an ambitious tour across the length and breadth of the USA, stopping off in New York, Maine and New Orleans before travelling further west to discover her true self, find new love and happiness. She wants to observe happy couples and start her life from scratch every day. Surely that's not too much to ask for the big five-oh! She's half way through her dance lessons
when her plans are derailed in Santa Fe, where she achieves a greater goal, losing her heart in more ways than one: to the incredibly beautiful landscape, to a romantic little house that's up for sale, and to Dominic, the man who's selling it. Buying the house puts her into debt – and neither the house nor Dominic reciprocate her affection. Disasters follow hot on each others' heels …

Milena Moser navigates the stormy waters of midlife crisis with her distinctive charm and humour, showing us how happiness can really be found, even if it arrives from a totally unexpected quarter.