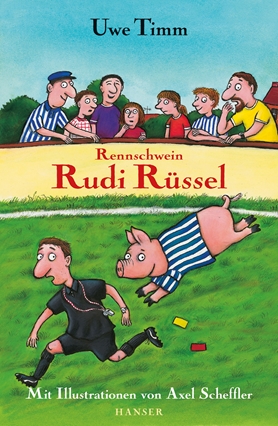 The fastest Pig on Earth
It all begins with a raffle. Little Zuppi wins the first prize – a piglet. Daddy makes a grim face, and the landlord, Mr Buselmeier, is even less pleased. "Out!", he screams, and throws out the entire family, including the pig. They move to a house next to a football field. Daddy becomes groundsman and Rudy, the pig, a successful mascot until the referee shows him the red card.

Zuppi's cute piglet has turned into a huge good-luck pig charm because thanks to Rudy, the local team wins one match after the other. During practice, Rudy races the players until their socks smoke. The only people he doesn't like are referees. When he pulls the trousers off the bottom of one of them, he's had it – he is banned from the pitch for life. A hard blow for Zuppi and her family, for the club managers demand proof that the pig is needed for artistic reasons. Then, and only then, is Rudy allowed to stay. But nothing in the world can make Rudy perform tricks. Rudy wants to run. And then, on a sunny Sunday, he wins not only a mountain of sausages but also the heart of a very fast pig lady.