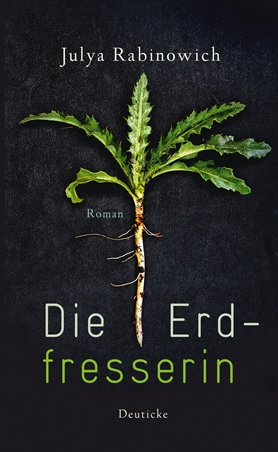 The Earth Eater
Diana is one of many women who leave their home in the former Soviet Union behind and set out to provide for their families, usurping the role of the traditional male breadwinner.

As a young woman Diana dreamed of working as a theatrical director. But a career in the dramatic arts does not yield enough to make ends meet, so before long she trades the stage for the road, joining the illegal underground – immigrants who arrive in the spurious paradise of the "Golden West" filled with hope, only to wind up trapped in roadhouse motels and red light districts. When Diana eventually comes to Vienna and meets Leo, a superstitious and seriously ill policeman who saves her from deportation in order to balance his karma, it seems for a short while there might be a way out of the bleak existence she is so determined to flee.

With striking imagery and vivid dialogue, Julya Rabinowich sketches the portrait of a woman who, defying internal and external constraints, tries to take control of her destiny. Rabinowich, whose debut Spaltkopf was enthusiastically received by critics and readers alike, gives us her third great novel, a book that is at once highly political and deeply moving.