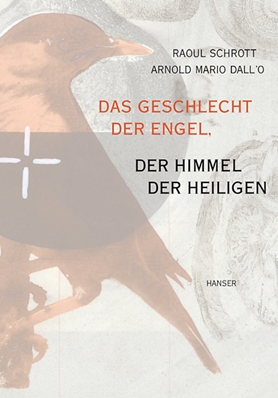 The Dynasty of Angels, the Heaven of the Holy
How many angels populate the eternal night of the universe and set the stars wheeling? Cherubim and Seraphim, said Dionysius the Areopagite, live in the outermost sphere of the fixed stars that is the realm of the Lord, and each planet has its own chorus of angels, from Saturn to Venus. "To Earth, however, he granted but a single one", Raoul Schrott says in the first of his English letters, "and that one he placed, six days ago, below the lower-left costal arch where I can feel him like a small heavenly body." And a most earthly angel he is: "I see him before me, his mouth, the black brows, a storm of red hair above his freckles, the very incarnation of St Elmo's Fire."

Raoul Schrott's Book of Angels veers between myth and reality, between poetry and love letter. The noted Italian painter Arnold Mario Dall'O contributed impressive portraits of saints and their curious legends. The result is a singular dialogue between angels and saints, literature and art – an extraordinary and beautiful book about the multifarious forms of love.