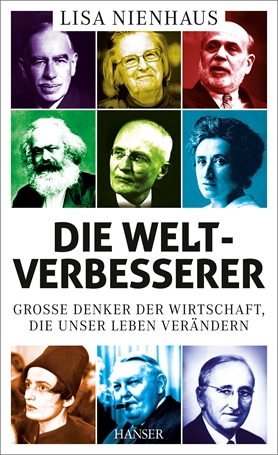 The Do-Gooders
Wealth and ruin, success and failure, avarice and happiness: the big questions of life are questions of economy. This book offers explanations from the leading economic minds as to why there is money, credit, work, and taxes. These voices started revolutions, predicted disasters, and fought for women's rights. They alleviated crises and drove wedges between people.

This book introduces us to 65 economic geniuses. Among them are the most innovative economists of all time, but also writers, politicians, and philosophers. We learn how Amartya Sen became the advocate of the disadvantaged, why Charles Dickens regarded himself a radical liberal, how Nikolaj Kondratjew discovered the biorhythms of capitalism and why Ludwig Erhard would not have saved the banks. It is a guide for a better understanding of the world.

The work is based on the successful series "The Do-Gooders", published in the Frankfurter Allgemeinen Sonntagszeitung in 2014.
Foreign Sales
Korea (YIDAB)