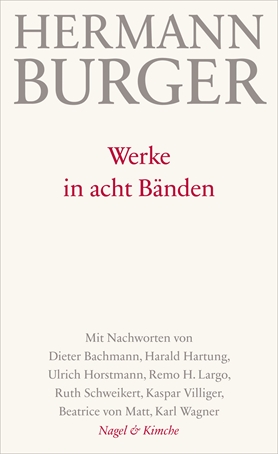 The Complete Works
February 28th 2014 marks the twenty-fifth anniversary of Hermann Burger's death. It will also mark the publication of an omnibus edition of his complete works. Burger was ''one of the most gifted writers of the contemporary German-speaking literary scene" (Adolf Muschg 1989), and now all his wonderful texts — including Diabelli, Blankenburg, Brenner and Der Schuss auf die Kanzel — will finally be available again.

"German literature has lost one of its most original wordsmiths", wrote Marcel Reich-Ranicki in Burger's obituary. Burger's linguistic virtuosity was fuelled by an unequivocal motive: to shake the ground beneath the reader's feet. Witty and eloquent, researched with obsessive attention to even the tiniest, most outlandish detail, Burger's stories are seductive, dazzling and provocative, and the same can be said of his public persona in the guise of bohemian and conjurer.
The inextricable link between his life and work is borne out by the erudite, enlightening postscripts and many shared personal memories rounding off these volumes — contributed by Harald Hartung, Beatrice von Matt, Ruth Schweikert, H. Remo Largo, Dieter Bachmann, Kaspar Villiger, Karl Wagner and Ulrich Horstmann. When Nagel & Kimche published the revised edition of Schilten in 2009, luminaries of the German-speaking world's literary supplements bewailed the fact that the rest of this headstrong and idiosyncratic Swiss author's work was out of print. Now this deplorable oversight has at last been rectified.