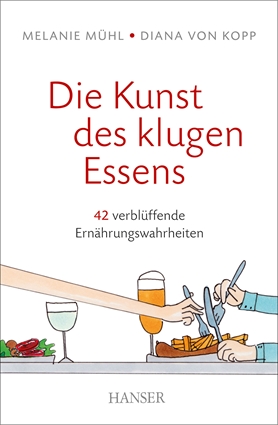 The Art of Eating Smart
Whether it's the Stone Age, vegan or raw vegetable diet, new nutritional trends are constantly being invented. But we mustn't overlook these key questions: why do we love some dishes and can't stand others? And how can we manage to eat in a truly more intelligent way? We can read about established findings from the fields of behavioural psychology and neuroscience that decode our taste and shed light on the social aspect of food.

Melanie Mühl and Diana von Kopp have collected 42 astonishing facts about nutrition. They demonstrate how the girth of the waiter influences what we order in a restaurant, why we should sit with our backs to the buffet, that diets don't work (with the exception of the 80 per cent rule), how milkshakes lift our mood and what types of food would ensure our survival on a desert island. This compendium is as entertaining as it is informative, and it leads us through the jungle of the nutritional world in easily manageable portions.
---
Foreign Sales
Italy (Sperling & Kupfer), South Korea (Interpark), Spain (Planeta), Taiwan (Business Weekly), USA/UK (The Experiment)