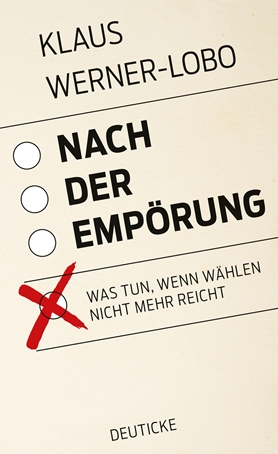 The Aftermath of Outrage
Get involved! Let's help change the world. How can we make ourselves heard when we air our grievances? How do we get actively involved in politics? How can we help shape the future? A hands-on manual for one and all.


Demonstrations and protests on the one hand; resignation, disenchantment and voter apathy on the other. The bottom line is that an increasing number of citizens feel politicians and political parties are reneging on their democratic duties. There is a growing demand for sustainable alternatives.

But what can we do in real terms when we are fed up to the back teeth with political stalemates, corruption and inhumanity? When we want to improve our coexistence or protect the environment?

Klaus Werner-Lobo, who has experience of political work on various levels – as activist, author and politician — encourages us to take a stand and get more involved. Through real-life success stories both major and minor, he shows how individuals, ground-level initiatives and grass-roots movements have brought about improvements in the world – and in many cases made history.

A guide to pro-active intervention!