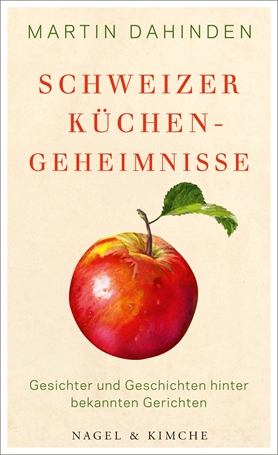 Swiss Culinary Secrets
The phrase »Swiss cuisine« conjures up fondue and chocolate. But did you know that it was a Swissman who invented the stock cube, another who developed mass-produced ice-cream and yet another who, as the chef of five US presidents, influenced world history? Ingeniously peppered with recipes, it is an ideal present than can be served in lieu of another cookbook.

This will come as a surprise to some gourmets: Switzerland has made some significant contributions to international gastronomy in the form of stories, recipe books and culinary inventions. Not to mention brilliant cooks. Napoleon's Swiss chef, for example held sway over entire military operations via his boss' stomach. César Ritz, who hailed from the mountainous canton of Valais, founded an entire luxury hotel sector. The Tessin family Delmenico, who emigrated to New York, introduced the à la carte menu there. And the »milk soup of Kappel« was a diplomatic feat that secured peace. Martin Dahinden has followed the historical traces left by the Swiss who have made culinary history. He tells stories of cocktail and menu geniuses, visits from the German Emperor and early haute cuisine. And he explains why the Swiss do not have a national cuisine of their own despite these many achievements. Entertaining, stirring, and ripe with recipes, this tempting menu of stories is ideal for both Swiss and other epicureans.