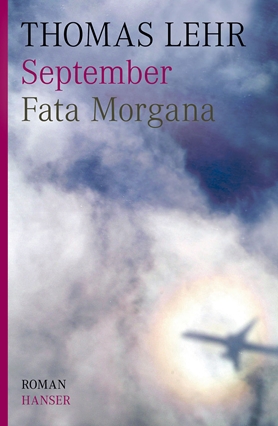 September. Fata Morgana
Two fathers and two daughters - the new novel by Thomas Lehr tells a story of parallel lives, played out at great distance from one another, and yet inextricably linked by two political events: New York 2001 and Baghdad 2004.

Martin, a German-American professor of German studies, lives with his daughter Sabrina in the USA. Tariq, an Iraqi doctor, lives with his daughter Muna in their hometown of Baghdad. They are not connected in any way. That is until, on 11th September 2001, Sabrina dies in the World Trade Center, and in 2004, during the last days of the war, Muna loses her life in a bomb blast. Thomas Lehr presents us with a novel that has the political catastrophes of the recent past as its centre, and takes us on a literary journey across the cultural borders between two countries. September is an intricate and impressive work; written in a condensed, lyrical language, it attempts to open up the political conflict to further discussion by shedding light on its historical and political background. Uncompromising and unrelenting, the novel perpetuates the memory of the two murdered young women, who themselves embody all the casualties of that conflict.