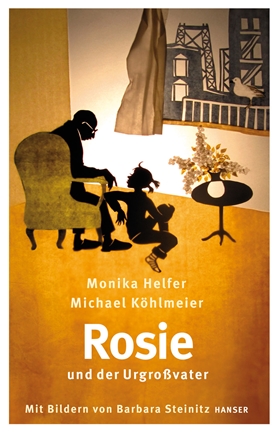 Rosie and the Great-grandfather
Rosie's family lives in America, far away from the little Austrian town where her Jewish ancestors lived for many generations. But luckily her great-grandfather still remembers all the old stories that people used to tell each other there. For example, the one about the miracle that took place one bitterly cold winter when the animals were allowed into the horse dealer's house, and even cats and mice got on just fine. Or the story of little Sophie, who always told the truth, and it didn't do her any good (but when she started lying it wasn't any better). Or the tale of Mendel the peddler who was constantly complaining about his sore feet, but refused to wear anything more comfortable because he so enjoyed the moment when he pulled off his painful worn-out shoes. Rosie is a bubbly, modern city girl, but she loves listening to her great-grandfather's wonderful old stories. One day she asks him to tell his own story, and that's not so cheerful, but at least her great-grandfather had his own happy ending.

The married writer team Monika Helfer and Michael Köhlmeier live in Hohenems in Vorarlberg, Austria, which is the setting for this book. Monika Helfer's new novel Bevor ich schlafen kann will be published by Deuticke in the autumn of 2010. Michael Köhlmeier's most recent publication was the novel Abendland, which was published by Hanser in 2007. His novel Madalyn will appear in autumn 2010.
Foreign Sales
Slovenia (eBesede)