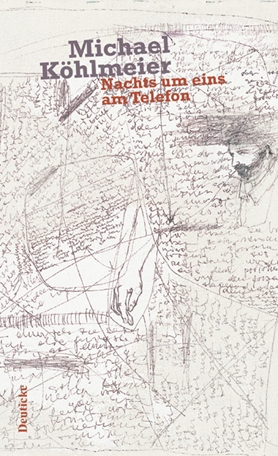 On the Phone at one in the Morning
A telephone is the best companion a lonely person has, and phone calls after midnight are conversations with ghosts. The narrator calls friends, like overweight Caligula and beautiful Jetti, his old flame (although they never did actually get together), and absolute strangers that he has met in the land of Insomnia. Through the wall he listens to his neighbour's phone ringing and to her talking to him, yes him, even though he isn't at the other end of the phone.

This book is made up of a good two dozen phone calls, of lovingly tended paranoia, of the neuroses of big city life, of a need to remember and of other needs, and of an attempt to ' knit together a family of the heart and of the head?. The narrator makes lists of his friends at night, collects newspaper snippets with pictures of Keith Richards, investigates the theory of penumbras and discovers, quite by surprise, what the generally accepted definition of an arsehole is.

The outstanding quality of Michael Köhlmeier's writing comes from his ability to look at everything very closely. His observations show an unquenchable affection for people that is both tenderly and brutally clear-eyed.