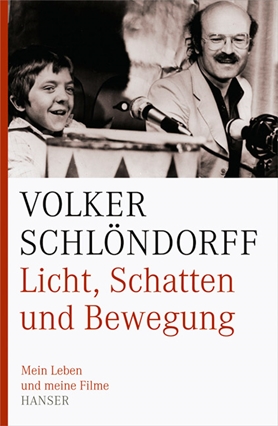 Light, Shadow and Motion
Volker Schlöndorff has often been accused of not revealing himself in his films. At last, he opens up and tells us about his life. A youth spent in Hesse, a life lived in many countries and languages. Oscar-winner Volker Schlöndorff gives us a riveting account of his life and work.

As a young man, Schlöndorff was assistant to Jean-Pierre Melville and Louis Malle. As a film director, his circle of friends included Gunter Grass, Max Frisch, Heinrich Boll and Arthur Miller, all of whose books he adapted into films. Die Blechtrommel won him the first German post-war Oscar and, together with Rainer-Werner Fassbinder, Alexander Kluge, Werner Herzog and Wim Wenders, he formed the group of New German Cinema directors who swept away "grandpa's cinema" in one fell swoop. For four decades, Schlöndorff has ranked among the handful of German filmmakers with international standing. In this autobiography, the film director and writer tells of his life and films in a no-frills account. He describes his childhood in post-war Germany and his mother's untimely death, his years in French boarding schools, which served as a source of inspiration for his first great success, Der junge Törless, his political activities in the late sixties, the genesis of his films, and his life in Germany, France, Italy and America; he writes about his friends, both male and female, to whom he dedicates affectionate portraits, as well as actors he has worked with, including Alain Delon, Jeanne Moreau and Mario Adorf. This work by a German artist, a vibrant description of his life and work, could hardly be more absorbing, thought-provoking or entertaining.
---
Foreign Sales
Bulgaria (Colibri), China (People's Literature Publishing House), France (Flammarion), Poland (Propaganda), Spain (UNAM)