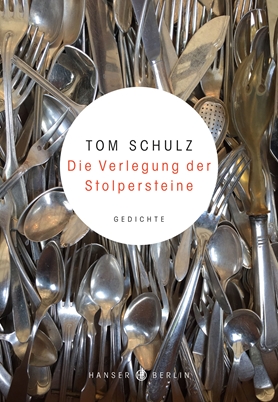 Laying Stumbling Stones
We have to produce light, oxygen.
Exchange breath. Give stones water.

In his new poems, Tom Schulz engages in poetic memory-building. Visually powerful and unpredictable, they are a far cry from commemorations and everyday politics. Instead, he writes poems with the magical intensity of mantras in an attempt to keep oblivion at bay.

Every seven years, man peels
off his skin
changes the colour of blood
But now
in its place a stone grows
out of the ground, a stone
that knows, that speaks.

In his new poems, Tom Schulz explores the world with a heightened historical awareness. He descends into the "basement where antlers hang", climbs into the tops of cherry trees and adds a sheen of memory to each layer. In doing so, he lays claim to the phantom memory of tradition, superimposing personal recollections of his childhood in the GDR with scenes of burning Dresden and present-day Pegida marches. Wherever these poems lead us – to Lithuania, Mexico, or cows in front of a nuclear power station – Tom Schulz shows us that tripping over or pausing is a precondition for perceiving the world with empathy, and a precondition for its improvement.