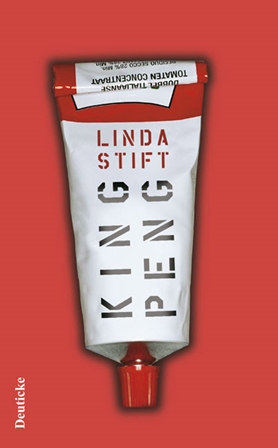 Kingpeng
Kinga has been living with her brother Nick every since her fiancée died in a car crash, and she likes wearing his boxer shorts. Together they run a catering service: she cooks, he deals with the business side and otherwise indulges in compulsive washing, while Kinga is suffering from absent states that may be connected to a swelling behind her left ear, the "horn" as she calls it.

From their small balcony that houses only some herbs and tomato plants, Kinga and Nick have a view of a big terrace with potted shrubs, a swing seat and rich, good-looking, fascinating people. And suddenly they are a part of the crowd, although, at first, only in the role of those who use the servant's entrance. Then a mysterious murder occurs, Kinga has an affair with a man whose wife sleeps with Nick, and the "terracotta island" loses its fascination.

Nick wants to go away with Kinga, as far away as possible, perhaps to Kingpeng in China. Then everything would be like it was before…

Linda Stift's debut novel demonstrates her considerable literary talent that is precise and yet light as a feather, as the author tells of subtle power games and twisted relationships.