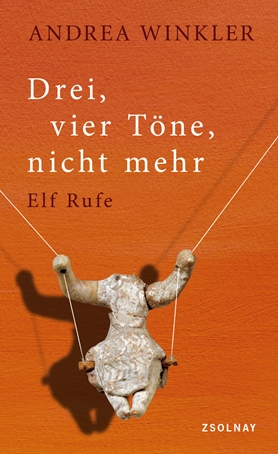 Just Three or Four Notes, Not More
Since making her debut four years ago, Andrea Winkler has become one of the most highly regarded Austrian writers of the younger generation. Her writing is in deliberate contrast to the standard narrative flow, and with her keen attention to detail she succeeds in creating an incredible linguistic undertow, which carries the reader along in its wake and keeps them spellbound until the very last page.

In her latest book, eleven times the protagonist tries to remember. She is troubled by the loss of a beloved man, experiencing an intense emotional pain resulting from a parting that never took place. It is precisely this trauma and her fear of losing herself that drives her to retrace their steps into the past – all that is left to her of their encounters. No matter whether she pauses for a moment on a park bench, walks down a road, or sits on a swing, she always talks to the absent man as though he were just beside her, as if their story together could start again: "Come closer and share my confusion, my appetite for a life that can still be squandered, the desire for something unexpected."