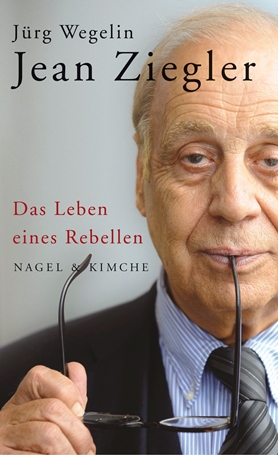 Jean Ziegler: The Life of a Rebel
Jean Ziegler is the most vociferous radical and - after Roger Federer - probably the most famous person to come out of Switzerland. As the conscience of the West, the man whose origins by no means reflect his life's mission has invariably made many a powerful enemy. This authorised biography of Ziegler is the first to tackle the subject and makes for a remarkably gripping read.

To some he is the intrepid lonely fighter against poverty and hunger, while others see him simply as a nest fouler and rabble rouser. Radical left-wing sociologist, bestselling author and UN diplomat, his fury knows no bounds when it comes to accusing the powers that be. A life of twists, turns and contradictions that Ziegler has hitherto turned a blind eye to is now put under the microscope: the biography examines his time as cadet commander, his beginnings as a bourgeois student and member of the Zurich-based Zofingia student fraternity, his conversion to Catholicism as well as his affinity with French culture and his encounters with Che Guevara, Régis Debray, Jean-Paul Sartre, Abeé Pierre, Hugo Chavez and Eli Wiesel. Nicknamed the 'White Negro' by Debray, Ziegler fills vast auditoriums with his lectures on his crusade against starvation and poverty. Eloquent and critical, this is the portrait of a man who refuses to give up his cause, even at the age of 74.
Foreign Sales
Switzerland (Editions Favre SA)