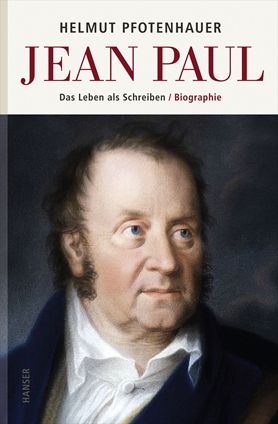 Jean Paul – A Life in Writing
Jean Paul created his own world on paper, a universe made of ink: Schulmeisterlein Wutz, Hesperus – the most successful book of its time – Siebenkäs, his "cardinal and capital" novel Titan and the unforgettable Giannozzo, the bookish Fibel, the whimsical Katzenberger, and of course his magnificently gloomy later work, Der Komet. Most of his books are biographical, and he robbed the treasure-chest of his life in the service of his writing: the days, the nights, his family and his love affairs, even his dining habits and elaborate drinking rituals.

So it follows that a biography of Jean Paul can only be a depiction of his evolution as a writer; a description of the inseparable link between writing and life. How did this provincial pastor's son become a celebrated author, and why did he ultimately retreat back into his shell in Franconian Bayreuth to live the life of a recluse? Helmut Pfotenhauer, one of the leading experts on Jean Paul's life and work, has written a thoroughly researched, erudite and highly entertaining biography of this great romantic – a delight to read.