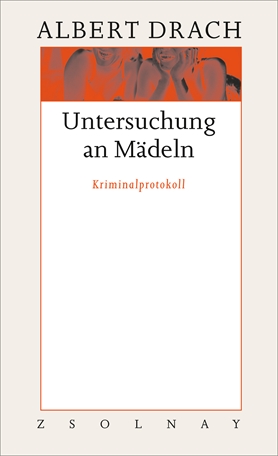 Investigating the Girls
Two young hitchhikers are charged with the murder of cattle dealer Joseph Thugut. Outrageous investigations ensue. And Albert Drach keeps record.

Untersuchung an Mädeln, one of Albert Drach's most important and successful books, is the first of a ten-volume anthology published on the occasion of his 100th birthday. Drach, originally a lawyer, established the protocol style in literature, a style that became his trademark. In this book, two girls, Stella Blumentrost and Esmeralda Nepalek, are charged with the murder of cattle dealer Joseph Thugut. Thugut had picked up the two hitchhikers and raped them. They smashed his head with a lifting jack and hauled him into the bushes. The corpse, however, is missing. The earlier lives of the two girls come under close scrutiny. They have been pushed to the fringes of society by their family background and lack of education, but also because they are women. "Is it still possible that men are granted sexual freedom as a matter of course, whereas women in such a case are demeaned and declared fair game?", asks their attorney. In the course of an investigation of hair-raising bureaucratic narrow-mindedness, the answer manifests itself.
Foreign Sales
France (Albin Michel)