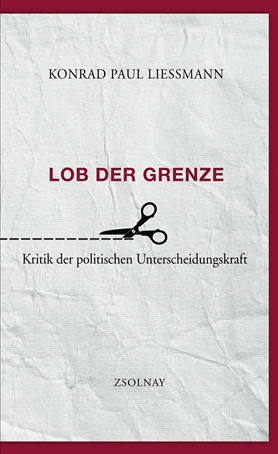 In Praise of Boundaries
Life is a process of making distinctions. It starts from the very beginning – uniqueness begins at birth. In order to assert your individuality, you need to set yourself apart from others. To seek out risk means leaving your comfort zone, and to pinpoint a moment of crisis you need to recognize it as a situation in which nothing is as it was before.

In his new book, Viennese philosopher Konrad Paul Liessmann discusses the boundaries which are the prerequisite for survival both at an individual and social level. Lucid and reflective, his speculations range from the boundary between being and nothingness to the difference between mankind and the animal world, from political and topographic borders to the disparity between youth and old age; from the contrast between salaried servitude and self-determination all the way to current global crises. Liessmann's central concern is man in his time and shedding light on the crucial political and social issues that, due to the prevailing ideology of transgressive boundlessness, are no longer called into question.
---
Foreign Sales
Czech Republic (Academia)