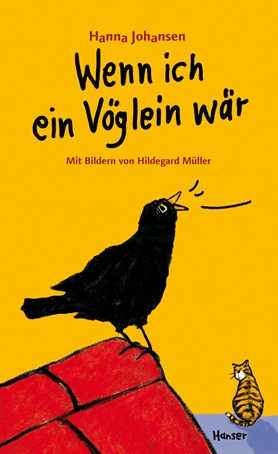 If I were a little bird
For the third year running, Mario visits the same garden, sings his songs and hopes they will catch the attention of a lady blackbird. And he doesn't have to wait too long, because Mario is the best singer for miles around. In no time at all a nest has been built and three baby birds have hatched. But something is different this year: there's a girl in the garden. She plays the most wonderful music on her flute – and all at once, Mario is fed up with the old blackbird songs: "Good evening! Go away! I'm here now!" How boring they are! In contrast, he finds the girl's favourite song is enchanting. "If I Were a Little Bird!" Mario wants to be able to sing that song too. And so he starts practicing, day after day. In the meantime, his young ones need to be fed and nurtured, the cat prowls through the garden, and a great many blackbird adventures have to be survived.

In the end, by the time the readers have followed Mario through a whole year of his blackbird life, he has succeeded in singing his new song. Hanna Johansen's animal story is also a little study on blackbird lore.
Foreign Sales
Spain: Castillian; Catalan; Galician (Oxford UP); China (Lijiang Publishing); Taiwan (Taiwan Interminds)