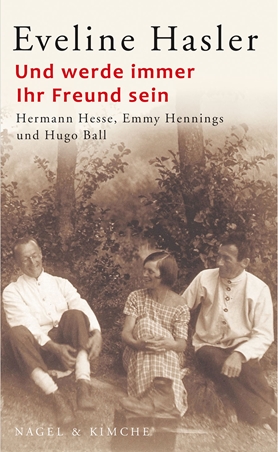 I remain ever your friend
In December 1920, Emmy and Hugo Ball meet Hermann Hesse in the small Ticino village of Cassarate. It is the beginning of an extraordinarily intense friendship that will turn out to have fateful significance for all three of them. In a fast-paced and documentary novel, Eveline Hasler tells the story of how these three creative people met, and of the years leading up to their first encounter, during the wild days of the avant-garde movement in Munich and Zurich.

All three have been through a difficult time when they meet in the Ticino. In the middle of working on Siddharta, Hesse has left his emotionally disturbed wife and their three children. Hugo Ball has just lost his beloved friend Hans Leybold in a tragic manner. And prior to her recent marriage to Ball, Emmy Hennings experiences a restless phase full of love affairs and drugs. But they have all been incredibly prolific throughout this: in Zurich, the Balls set up the Cabaret Voltaire – the cradle of Dadaism – together with Sophie Taeuber, Jean Arp, Tristan Tzara, Marcel Janco and Richard Huelsenbeck. And Hesse lands a major success with his novel Damian. Their bond, which grows increasingly close, seems fated to all three of them – it is to last until Ball's death following the completion of his biography of Hesse in 1927. A stirring and captivating novel about the inspirational power of deep and true friendship.