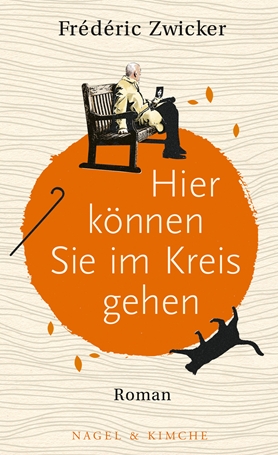 Here You May Walk in Circles
At the age of 91, the dement Johannes Kehr is put into a nursing home. But he is only faking his dementia. He wants to settle in ahead of time and make sure he is well prepared. At first taken aback, and then with growing understanding, he observes his fellow »inmates«. A sensitive literary debut, both imaginative and intense.

»It's going to happen sooner or later.« With this insight into what he has to do, Kehr plans his life in a nursing home for his remaining life after his wife's death. He doesn't have a good rapport with his daughter; he loves his granddaughter Sophie, but she's expecting a baby and he doesn't want to make too many demands on her. In the nursing home, Kehr hopes he will find some peace. But it isn't that easy. He witnesses the dotty, often aggressive behaviour of his fellow occupants and the negligence of the carers. He exploits his faked dementia to steal desserts, hide the walking frames of disagreeable neighbours and to take liberties. Soon, however, his acting becomes more challenging: the more familiar the home becomes, the greater the danger is that he will be exposed. When Annemarie, the love of his youth, turns up, his old affection is rekindled. A strong debut novel whose exuberance stays with the reader for a long time.