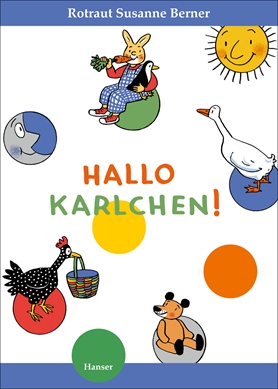 Hello Little Charlie!
"Rotraut Susanne Berner knows how to make a good Children's Book." Deutschlandfunk

Little Charlie has taken children's and parents' hearts by storm. Even the youngest among us can't get enough of the little rabbit's adventures. Now, Little Charlie's first four picture-book-stories are available in a collected volume—a onetime special edition.
Good Morning, Little Charlie! Getting-up can't get any better because Mom knows how to lure Little Charlie from under his blanky in the gentlest way possible. - Where Is Little Charlie? Together with his cousin Käthe, Little Charlie loves to play hide-and-seek at Granny's house. Even though Granny always finds their carrot-trail too fast. - Little Charlie Goes Shopping: When Little Charlie tags along, Dad really enjoys grocery shopping. But the two of them always forget something—sometimes even the wallet! - Good Night, Little Charlie! Being put to bed by Dad is the best thing ever, because Dad's slipper-express always takes a detour through the kitchen in Foodville and the bathroom in Watertown before its final destination Beddington.