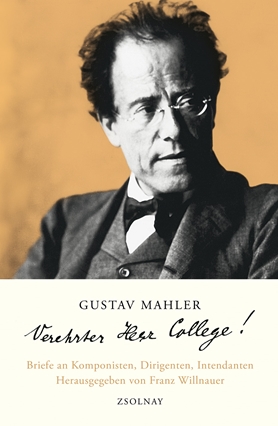 Gustav Mahler "My Esteemed Colleague!"
When Gustav Mahler died in 1911, he left behind his extensive correspondence consisting of several thousand letters. Among the addressees we find the composers Anton Bruckner, Antonín Dvorák, Richard Strauss, Ferruccio Busoni and Arnold Schönberg, the conductors Bruno Walter, Hans von Bülow and Franz Schalk, as well as the first lady of the Bayreuth Festival, Cosima Wagner.

The renowned Mahler expert Franz Willnauer has put together a selection from this rich cornucopia – including many letters that are published here for the first time – focusing on Mahler's professional life. They paint an authentic and multi-faceted portrait of this composer, conductor and theatre manager, and along the way present a colourful and absorbing picture of the music scene in Germany and Austria at the turn of the century. Mahler was unique in his ability to establish relationships with significant figures in music at the time, but his letters don't exclusively concern his composing work; they also reflect the three-way division which characterised his entire musical career: that of composer, performer and manager.