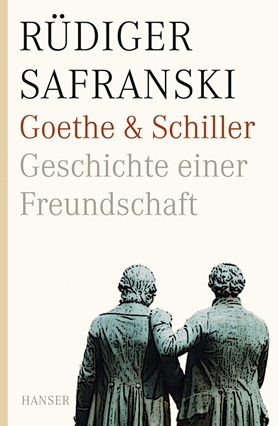 Goethe and Schiller
A friendship is a work of art: Rüdiger Safranski on a magic moment in German intellectual history

Each man said the other was the most important person in his life. It was very much an attraction of opposites: Goethe's intuition and profound emotionality, Schiller's keen intellect and tenacious willpower – one trusted in nature, the other invested his faith in freedom. Schiller penned his classical dramas and brought them to the stage with Goethe's help; Goethe entered a second period of youthful creativity thanks to Schiller. And, propelled
by the exhilaration of their collaborative relationship, the two friends began work on the Xenien, a collection of satirical epigrams, with which they reprimanded the German literary establishment.

In this joint biography, Rüdiger Safranski doesn't dodge the ambivalence inherent in their relationship: although Schiller admired Goethe, he also envied and despised him. Goethe, for his part, viewed Schiller's meteoric rise to fame as a threat to his own position. And, in the end, Goethe created a memorial to his great friend with the publication of their correspondence, and by re-interring his corpse in the Weimar ducal vault – an act that also benefited his own posthumous reputation. There is no doubt that the friendship between these men was a pinnacle of German intellectual history.
---
Foreign Sales
China (SDX), NL (Atlas), Japan (Biblos), Korea (Yolimwon), Spain (Tusquets)