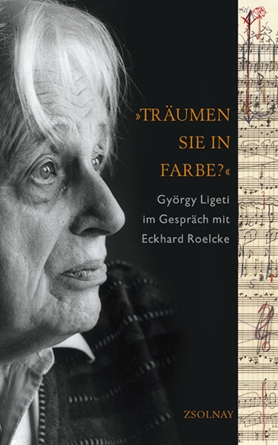 Do You Dream in Coulour?
One of the most important modern composers – and an alert and critical contemporary – talks about his adventurous life, music and politics, current affairs and architecture, ideas and encounters. A book released to mark Ligeti's 80th birthday on May 28, 2003.

Born 1923 in Transylvania to Jewish parents, Ligeti had an eventful youth, surviving the Second World War in the Hungarian army and suffering later from Stalinistic oppression. In 1956 the young musician escaped from Hungary via Vienna to Germany where he met the leading figures of the West-European avantgarde: Pierre Boulez, Karlheinz Stockhausen, Luigi Nono. Ligeti taught composition in Stockholm and at Stanford University, became a professor in Hamburg and achieved instant fame with his orchestral works Apparitions (1960) and Atmosphères (1961). His opera, Le Grand Macabre, is now considered one of the classics of music-theatre. György Ligeti and Eckhard Roelcke have known each other since 1988. Shortly before his 80th birthday, in between composing and practising, Ligeti talks about his life; colourful, passionate and always provocative, he comments upon music and culture, and his contemporaries.
Foreign Sales
Italy (Editori dell'Arca), Hungary (Osiris)