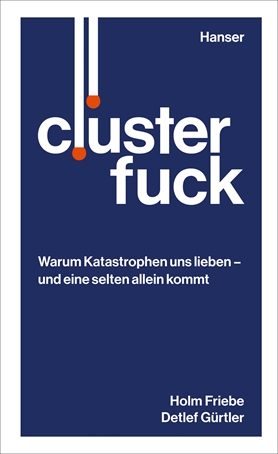 Clusterfuck
"There are no catastrophes, only opportunities. To me, this also means opportunities for new disasters." Boris Johnson, British Foreign Minister

Everything in the universe strives for the greatest possible chaos. From a statistical point of view, orderliness and effective functioning are less common conditions. Catastrophes are waiting to happen. And misfortune rarely happens in isolation – especially in our times of high automation and overconnectivity. But what is the mysterious link between the banking crisis, Brexit and the never-ending construction of Berlin's new airport? Holm Friebe and Detlef Gürtler call it "Clusterfuck".

Gürtler and Friebe show how everything – in the economy, society or our private lives – can become ensnared in disaster. Because disasters feed off impulsive action and hubris, opportunism and herd behaviour, they also make clear how we can avoid them in the future: with a modern style of thinking and attentive organisation. An astute analysis of clusterfucks from 10,000 years of human history. And a manual on how to flop less spectacularly.