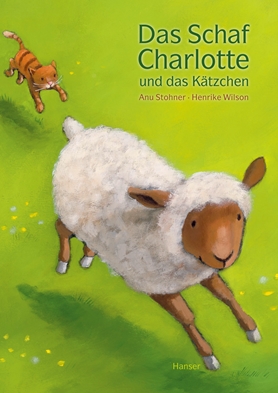 Charlotte the Sheep and the Kitten
All the older sheep think there's no one quite a wild as their Charlotte – until one day a little cat shows up …

In fact he's a tomcat and his name is Michel. Michel is a brave little kitten, not afraid of anything or anyone. First he biffs Charly the sheepdog on the nose, then he chases the chickens onto the roof and next he rudely awakens Edward the pig from his afternoon nap. He doesn't have the slightest bit of respect for Kunibert, the strong bull, either — in fact he blithely curls up for a ride on his back! The older sheep tut in disapproval – it's about time someone came along and put the little rascal in his place! But when he sneaks up on them, all they do is take to their hooves and dodge behind the hedge by the apple tree. Only Charlotte stays to face him — sparking off a chase so wild that before long no one can remember who's chasing who. But in the end it doesn't matter, because the two become the firmest of friends!
Foreign Sales
China (Shanghai 99)