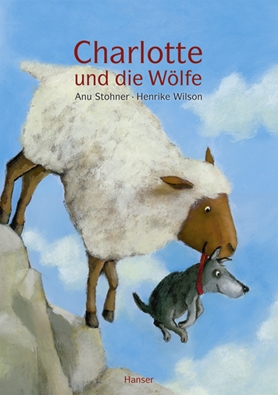 Charlotte and the Wolves
Charlotte the sheep is as brave-hearted as ever – she's not afraid of anyone or anything, not even wolves.

Ever since she went, on her own, down into the valley to get help for the injured shepherd, everyone thinks Charlotte is the bravest sheep around. Well…not everyone. There is a gang of young males in the herd who think they are tougher. They call themselves "The Wolves" and spend their time upsetting the younger sheep, telling them they can hear real wolves howling in the night. The little lambs get very scared and can't sleep, and their mothers get cross with them, but the impudent boys think it's hilarious. Then one day, real wolves are heard howling from afar, and the would-be "Wolves" become very sheepish all of a sudden. There is only one member of the herd who has the courage to investigate the distant noise. Guess who it is… Charlotte, of course.
Foreign Sales
Netherlands (Lemniscaat), UK / USA (Bloomsbury), Russia (KompasGid), Israel (Kinneret), China (Shanghai 99)