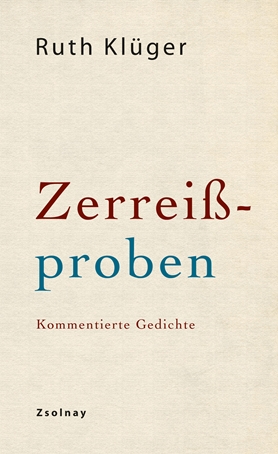 Breaking Points: Poems and Comments
The poems Ruth Klüger learned by heart helped her to survive the concentration camps. To this day she still writes her own poetry, a selection of which is published here for the first time, accompanied by her own annotations.

Ruth Klüger says poetry helped her survive the camps: the verses of Goethe, Schiller and Heine. However, it wasn't just other people's poems that sustained her through that dark time, it was also her own; poetry composed as a young girl in Auschwitz and from those days until now, but only rarely published. After the war, the eminent literary scholar was mainly occupied with in-depth studies of other writer's texts. Adorno famously said: »writting poetry after Auschwitz is barbaric,« and Ruth Klüger struggled with this statement continually while composing her own poems and reviewing those of others, eventually managing to shrug it off.

This volume represents the first anthology of Ruth Klüger's poetry, written between 1944 and the present, giving a striking new take on her work. She has annotated the poems with her own commentary, describing how »poetry-making« accompanied and influenced her life, offering interpretations of the metaphors and imagery she uses, pointing out quotes and allusions as well as suggesting various different readings – yet always allowing readers plenty of room to draw their own conclusions.