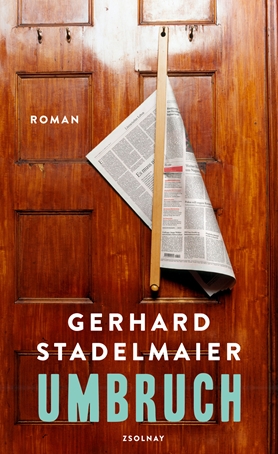 Break
Eloquent, visually powerful and playful: Gerhard Stadelmaier's novel about a young man and his life in newspapers. A biographical comedy and a loving tribute to the great era of newspapers.

»Be careful! Don't go into the newspaper business!« implores his grandmother, dipping her fingers into the holy water and making the sign of the cross on his forehead. Because for her, newspapers are the Devil's work. However, it's too late: the narrator or »young man« has been bitten by the bug. He is enchanted by the magical world of newspapers and by the breaks that characterise the times as well as the lines of text. Nor does the path ahead, which is lined by ruthless chief editors, put him off. He enjoys his work: from the Stadtpost, whose editor is worshipped by its readers, to the Landeszeitung, where wraps and reviews are celebrated in defiance of the zeitgeist, all the way to the Staatszeitung, where walls fall and dams burst.

Gerhard Stadelmaier, the legendary theatre critic of the Frankfurter Allgemeine Zeitung, knows like few others what goes on behind the doors of newspaper offices. His first novel is an eloquent, tragi-comic profession of love for what newspapers once were and what they should be.