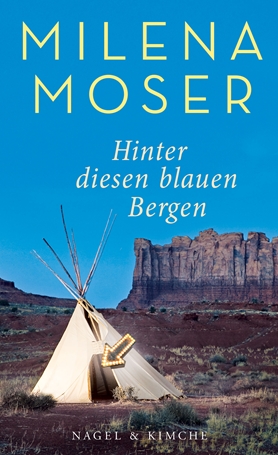 Beyond These Blue Mountains
Milena Moser dares to do what others only dream of…

Milena Moser dreams of freedom and longs for true love.
To find this, she leaves her life behind and emigrates to the United States. Following her bestseller The Many Faces of Happiness (2015), Moser describes her experiences in America and reveals where happiness can be found. We cheer her on with bated breath as she dares to realise our dreams in our place.

As a young bookworm who devoured the novels of Francesca de Cesco, Milena Moser had always dreamed of the Wild West. A horse and an Indian chief were at the top of her list of dreams. But when she buys a tiny house in Santa Fe at the age of 50 and decides to emigrate, she has other dreams, of course. She is still looking for love, and wants to find freedom. But first she has to learn to let go of the things close to her heart, to move away from her friends and children, and know what it feels like to be a stranger in a foreign country. She starts horse-riding again. Then she gets to know an old friend better, who turns out to be an Indian. His heart and kidneys are no longer a young chief's, but his brave, carefree spirit makes Milena go weak at the knees. Moser tells a rousing story of fulfilled longing. And we laugh with her in self-recognition as she describes her calamities with a keen, sharp eye.