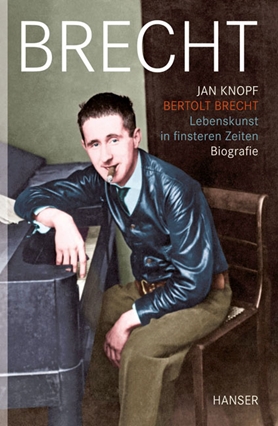 Bertold Brecht
Bertolt Brecht (1898–1956) gained acclaim on the world stage as only Shakespeare had done before him; in collaboration with Kurt Weill, Hanns Eisler and Paul Dessau he revolutionized musical theatre, inventing new formats that made the popular song so ubiquitous that people would whistle his tunes on the street. Brecht never tired of proclaiming that while the main function of art was entertainment, it should simultaneously provide insights into the shortcomings of prevailing conditions through readily accessible imagery: »What's robbing a bank compared to founding one?«
In the twenties, Brecht's work began to reach a wider public via the mass media, making his satirical observations a sitting duck for the Nazis right from the start of their rise to power. After his enforced exile, his avant-garde material, by now even more conceptually sophisticated due to his ready acceptance of new technologies, was rigorously suppressed.
Jan Knopf is the first post-reunification biographer to re-examine the life and work of this charismatic and often difficult man; a brilliant yet flawed artist who may have floundered in Hollywood but whose work went on to celebrate new triumphs with the Berlin Ensemble. Knopf gives us a colourful and vivid portrait of Brecht's varied fortunes, his friendships and his love affairs, which were invariably intertwined with the fabric of his work.
Foreign Sales
China (Social Sciences Academic), Korea (Communicationsbooks), USA (Yale UP)