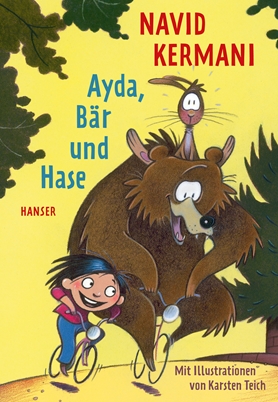 Ayda, Bear, and Hare
It doesn't matter if you're Persian, German, Turkish, Bear, or Hare—as long as you have great friends!

Navid Kermani's story about friendship, tolerance, and overcoming prejudices follows Ayda, who learns through her unusual friends that life is not always perfect but wonderfully beautiful nonetheless.

Ayda is only five but capable of a lot of things: reciting poems, dressing herself, speaking Persian and German, and riding her bike without training wheels. However, Lisa and Paul from kindergarten never bring her when they're out and about. They call her "squirt" because she's so short. So one day Ayda goes exploring on her own—and meets the hare and the big bear. Both are afraid of humans because nobody takes them seriously, yet everybody is scared of them—but that's different with Ayda. Together, the trio discovers the excitement of the world. They become more and more confident and only rarely they find themselves being "üzüntülü"- sad.