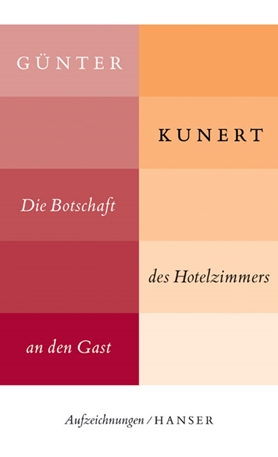 As the Hotel Room Said to the Guest
A book to replace entire libaries: Günter Kunert's compendium on life and love, children's games and the end of the world, friends and foes, dreams and nightmares – in short, all the grim and delightful aspects of reality.

For half a century, Günter Kunert has been one of the most distinguished poets and prose writers in German literature – both East and West. And for many decades he has been keeping a journal, a vast repository of thoughts and ideas that he rarely opened to the public. Now, in celebration of Kunert's 75th birthday, it is published in its entirety for the first time . Ironical remarks on world events and memories from his own life, matter-of-fact political analyses and witty comments on the end of the world, thoughts about God, everyday life, and, of course, his own writing. Kunert's humour is legendary: "Two planets meet. One says: I'm suffering from homo sapiens. Replies the other: Don't worry, it'll soon pass." In dark times, black humour – and literature – are often the only remedies. Kunert's reflections on writing, books, authors and their vanities run through the entire book, the book of life of a great poet.