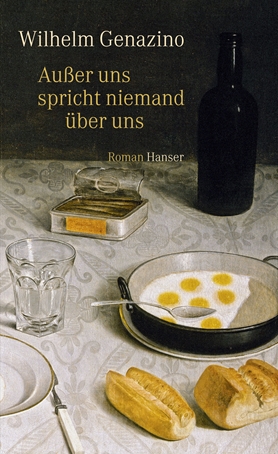 Apart From Us, No One Talks About Us
A wonderful Sunday morning; the city streets are empty. On the radio, a woman is singing that Jesus will save her. But if his life feels grey on a Sunday morning, isn't something going wrong? Are things different from how he once imagined they would be? Why can't he just buy some bread rolls, have a quiet breakfast and reflect on his life?

It's understandable that Carola has found her partner difficult to bear lately: he, a failed actor and radio announcer, has settled into lasting, comfy mediocrity. His girlfriend only manages to goad him into showing emotions when they are having a crisis. But when she decides to leave him, she realises that putting the brakes on their relationship hasn't made her any happier. The opposite, in fact. Luckily, the runaway girlfriend's mother comes to the rescue. Can she save the deserted man? Does he even want to be saved? If so and how is the subject of Wilhelm's Genazino's new, witty, mischievous novel.