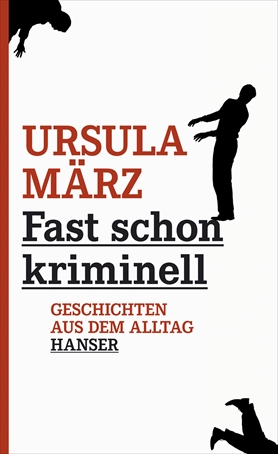 Almost Criminal. Stories from Everyday Life
Ursula März tells stories of lives that suddenly go off the rails. Featuring serious criminals as well as petty fraudsters and their victims, both actual and questionable, her tales show how fate is so often sealed in a fleeting moment.

There is plenty of money in the bank, and there are a lot of nondescript people working there, among them a pale man of middle age. One day after closing time, the pallid man helps himself to 3 1/2 million Deutschmarks without a second thought. But years later he slips up. Robert Hestler has only one desire: meeting the ideal woman. He has tried everything: singles parties, lonely hearts columns, blind dates, and doesn't even stop at chatting up unknown women in cafes and extracting their addresses. One day he is standing outside the door of a suitable candidate and goes one step too far. Ursula März recounts staggering stories about exceptional happenings that shake up the drab monotony of everyday life. With ferocious humour and remarkable linguistic economy, she shows how thin the line is between normality and brutality - and how much our life can hinge on absurd coincidences. Rarely is literature as close to the bone as in these stories, which depict a world far less secure than we like to think.